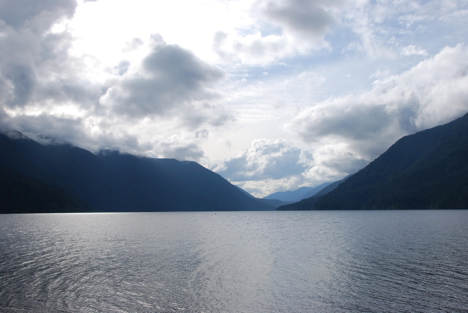 By Laurel Stevens
I stared out the window of our wood-paneled Mercury station wagon, watching the clouds sliding through the blue sky. Entranced, it hit me that finally, at the wise old age of five, I knew why the clouds tumbled through the air with such purpose and direction. "Mom!" I called excitedly to the front seat. "I know why the clouds move! It's because Jesus is in the clouds!" She chuckled while I reminded her of the picture in the Bible storybook of Jesus ascending into heaven in the clouds. I assumed he was still on his way up into heaven.
This week the Church marks Ascension Day--forty days after Easter when Jesus ascended into heaven. We read in Acts 1 that Jesus, after rising from the dead, met and talked with his disciples over a period of forty days. He told them not to leave Jerusalem until they received the Holy Spirit. Luke, the writer of Acts, continues in verses 6-11:
So when they had come together, they asked him, "Lord, will you at this time restore the kingdom to Israel?" He said to them, "It is not for you to know times or seasons that the Father has fixed by his own authority. But you will receive power when the Holy Spirit has come upon you, and you will be my witnesses in Jerusalem and in all Judea and Samaria, and to the end of the earth." And when he had said these things, as they were looking on, he was lifted up, and a cloud took him out of their sight. And while they were gazing into heaven as he went, behold, two men stood by them in white robes, and said, "Men of Galilee, why do you stand looking into heaven? This Jesus, who was taken up from you into heaven, will come in the same way as you saw him go into heaven."
This scene, rather than a static ending to the storybook of Jesus, is a bridge that takes us from the acts of Jesus in the Gospels--his birth, baptism, teaching, miracles, and ultimately his death and resurrection on our behalf--to the continuing acts of Jesus through the apostles. I love that we see yet again, though Jesus has spent so much time with his disciples, that they still do not fully understand his plan. "Will you restore the kingdom to Israel? Will you overthrow Rome?" thinking so narrowly as we, their spiritual descendants so often think. Jesus reminds them that it's not for them to know the exact times and details that God has in mind, but then offers these words: "You will receive power when the Holy Spirit has come upon you." They are remarkably similar to the words of Gabriel to Mary in Luke 1:35--"The Holy Spirit will come upon you, and the power of the Most High will overshadow you." And Jesus continues: "You will be my witnesses in Jerusalem and in all Judea and Samaria, and to the end of the earth." Is it any wonder, that moments later, as Jesus is taken up into heaven, the disciples are simply staring at the clouds that hid him from their sight? They are expecting--still--his power, his action, his moving. And now, he is gone. And yet--he'd promised himself, his power, working in them.
The book of 2 Kings in the Old Testament tells another story of someone being taken up into heaven. Elijah, Israel's prophet, famous for the showdown on the prophets of Baal, had anointed Elisha to succeed him. Elisha knew that Elijah's time was drawing near, and that he was going to be taken from him, so he followed him carefully, not wanting to lose a single moment with him. Elijah took his cloak, rolled it up and struck the Jordan River so they could cross. Finally Elijah asked Elisha, "What do you want me to do for you?"

"Let me inherit a double portion of your spirit," replied Elisha. Elijah agreed, as long as Elisha would see him when he is taken away. Not long after, a chariot and horses of fire appeared, and Elijah was whisked away in a whirlwind. Elisha cried out in grief and tore his clothes, saying, "My father! My father! The chariots and horsemen of Israel!" But Elisha's request was granted and the proof shown when Elisha picked up Elijah's cloak, rolled it up, and struck the Jordan so he could cross on dry ground. Over the course of his ministry, he repeated miracle after miracle that Elijah had done--multiplying food, healing sick rulers, and even raising the dead.
In Acts 1 when Jesus promises the power of his Spirit to his disciples, this is no mere talk. If we look ahead, browsing through the book of Acts, we see the sick healed, demons cast out and dead raised. And while not all of the disciples will perform such dramatic miracles, all will continue the mission of Jesus in the daily in and out of living which we saw in Jesus in the upper room when he washed feet and broke bread, or showed mercy to sinners, and those on the margins.
But in order for Jesus's Spirit to rest on his followers, he has to depart. He has been preparing his followers for this. In John 13-17 Jesus talks again and again about leaving, about sending a counselor, the Holy Spirit. He is preparing them. He is leaving, yet he is not leaving them alone. "It is for your good that I am going away. Unless I go away, the Counselor will not come to you; but if I go, I will send him to you." John 16:7
In this event called the Ascension we have the briefest of pauses. Jesus has promised and made clear that he will send the Holy Spirit, but first he must go. Before he goes, he blesses his disciples and gives them a mission. This mission is extended to all followers of Jesus--to be his witnesses close at home and far away, to our family and our neighbors and to the world. But this continuation of Jesus's work is not done on our own or in our own strength. The brief pause of the ascension is broken ten short days later on Pentecost with the arrival of the Holy Spirit--seen and heard--in the followers of Jesus.
In his book Christ Plays in Ten Thousand Places, Eugene Peterson writes, "The Holy Spirit is God's way of being present and active among us in the same way that he was in Jesus." And so the book of Acts, and indeed the Church of Christ herself, is just that--a continuation of Jesus's doing and teaching through ordinary people sometimes nudged along by angels while staring at the sky.